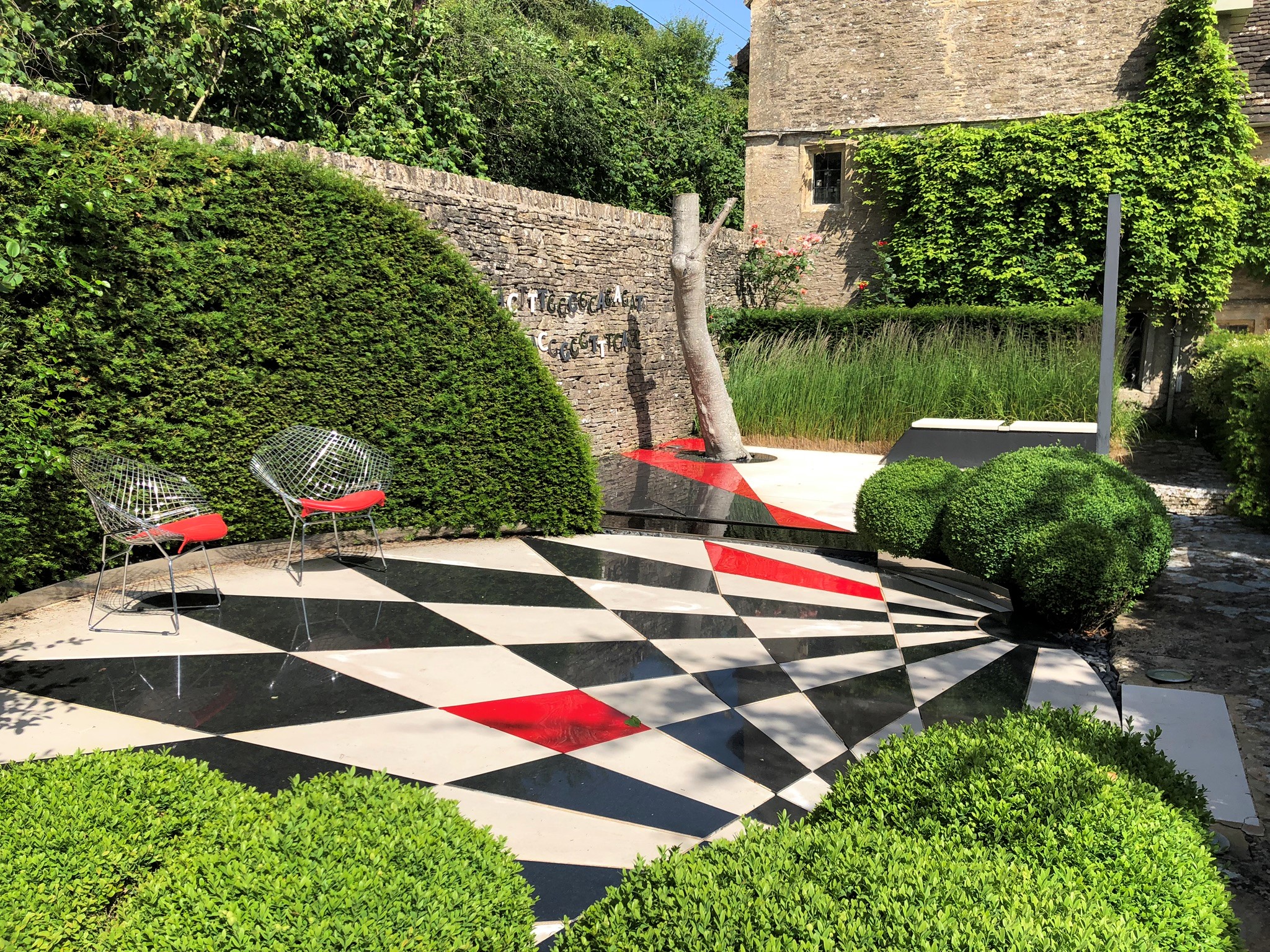 Througham Court is garden designer, Christine Facer's own garden, hidden away in a beautiful, remote and unspoilt Cotswold Hills valley. It is used as a personal 'laboratory' to experiment with new ideas, materials and planting combinations. Developed since 2000, new contemporary areas have been carefully shoe-horned into an existing 1930's Arts and Crafts landscape designed by the Cotswold architect, Norman Jewson featuring magnificent yew topiary shapes and dry stone wall terracing.
The new garden areas or 'fragments' are inspired by contemporary scientific facts and theories and mathematical number sequences found in nature that are used symbolically and metaphorically. It is perceived as a garden to be 'read'.  There is the Cosmic Evolution Garden (influenced by Lord Martin Rees's book 'Just Six Numbers') containing stone cosmic spheres and an Eclipse Shadow Bed with Cosmic Planting;  Fibonacci's Walk in the meadow; Pico Mound with ornamental grasses; Black Bamboo Maze, and much more. Several structures have been designed for the garden: the Black Hole Seat; Entrance into Chaos Gate (based on the mathematical Chaos Theory); Molecule Seat; Fibonacci Jumps and Energies Cascade.
The Cotswold landscape is borrowed both physically and visually. A new perennial planted mound creates a dramatic haze of colour with the juxtaposition of plants into startling and subtle groupings.  Chiral Terrace is a new addition as is the Anatomy of the Black Swan Gate, a new entrance gate to the garden. A newly renovated barn with a vast glass gable end window overlooks the peaceful valley and the new 'Rusty Border' warm brown/orange/red/blue planting changing with the seasons.
http://christinefacer.com/througham-court-garden-gloucestershire