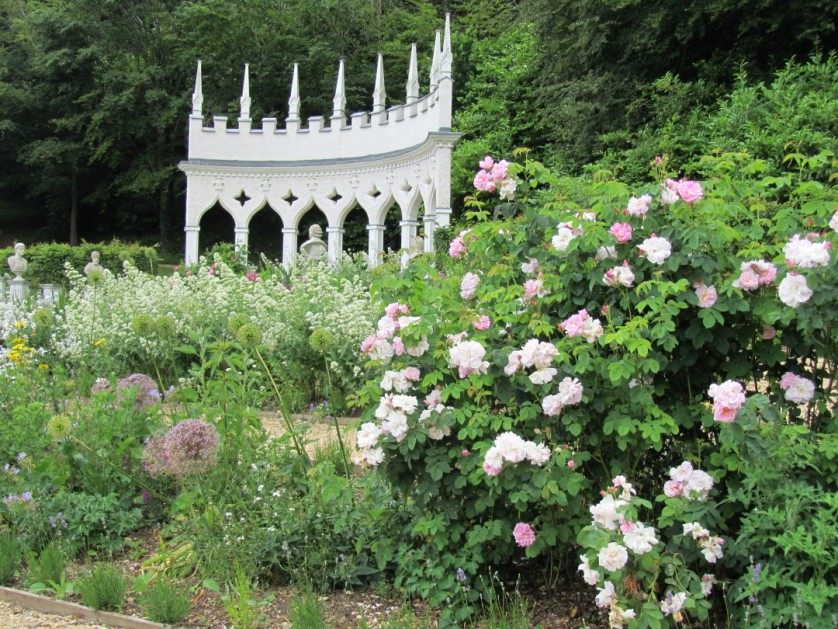 Painswick Garden is a most interesting garden, a survivor from a short but evolutionary time in gardening history. More often associated with the arts and architecture than with gardens, the Rococo style derives from the French words rocaille meaning rock-work and coquille, a shell.
The six acre garden has been under restoration since 1984 with guidance from archaelogical excavations and a remarkable painting of 1748 by Thomas Robins, who produced paintings of numerous houses and gardens in the middle of the eighteenth century. The restored garden is now beginning to mature and one can see unusual features as the designer intended, as one strolls around the serpentine garden paths.
Fascinating garden features include The Melon Ground, The Doric Seat, The Plunge Pool, The Exedra, The Red House, The Geometric Kitchen Garden, The Gothic Alcove, The Pigeon House, The Eagle House, The Bowling Green and The Fish Pond. This place is of great significance in the evolution of garden design. It marks the transition between the French formal influence and the Landscape Movement when experiments were taking place to mix the two styles so that formal and informal elements were juxtaposed. The garden layout combines the formality of long vistas and geometric patterns with informal winding paths, off-centred design and a mixture of architectural influences – Classical, Gothic, Doric and Rustic. The overall mood is light-hearted and flamboyant, capturing the pleasure-loving spirit of the age.
On the hill beside the old garden a novel Anniversary Maze, designed by local Painswickian Angela Newing celebrates the garden's 250 anniversary.
Painswick Rococo Garden is owned by Lord Dickinson through family connections with the 18th century Hyett family who built the original house and garden.  In 1988 he granted a long lease to the Painswick Rococo Garden Trust.