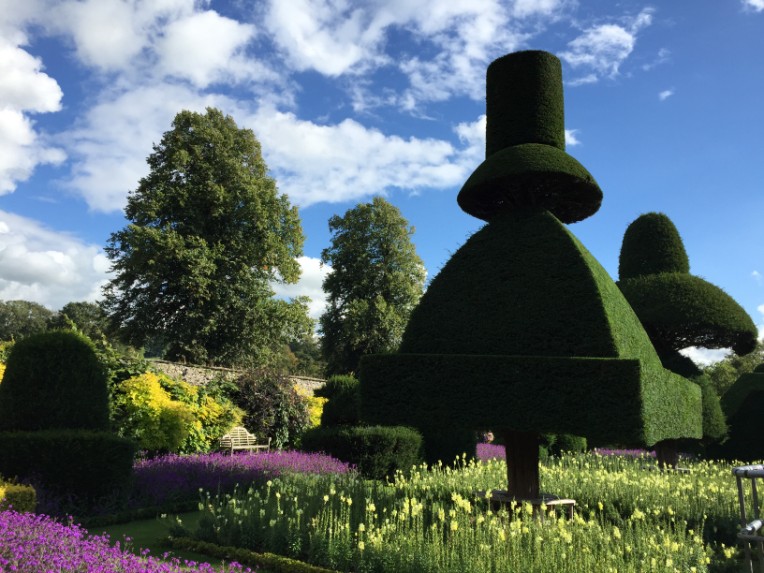 Rising above this Tudor estate is a grey stone Elizabethan mansion with its great square pele tower. Soon after he came to live at Levens Hall in 1688, Colonel Grahme commissioned Monsieur Guillaume Beaumont to reconstruct the garden and park. By 1694 together, with incredible topiary, they had made Levens an object of admiration and amazement.
Later, Colonel Grahme's daughter, the Countess of Suffolk and Berkshire, refused to save money by doing away with the intricate parterre. She insisted on every item of her childhood memories being preserved. The house and garden with few changes have subsequently passed down the family to the present owners, Richard and Naomi Bagot.
Fanciful shapes of yew, both golden and common, and of box, many billowing and misshapen with age, are scattered about. These include spirals, bells, chess pieces and other weird shapes. Among them beds are filled with bedding plants making brilliant blocks of colour whose boldness goes well with the monumental topiary.
Although the extraordinary topiary is the best-known feature of Levens, there is more to see. In total there are ten acres of gardens. On one side, behind castellated yew hedges, are excellent borders, a herb garden, a rose garden, fine lawns, meadows and an ornamental potager. Beaumont's extraordinary beech alley opens out into a giant circle and a path leads to a field with a ha-ha – the first in England.
There is a delightful small 17th century walled garden containing only plants that would have been available at that time. There is a working exhibition of steam engines and, in the park, a herd of black fallow deer, and a small herd of Bagot goats.