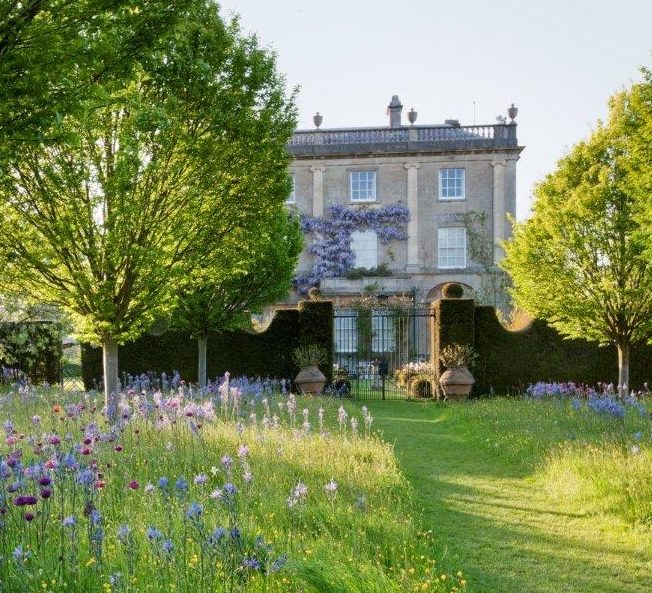 Highgrove House was built in 1796 to 1798 by John-Paul Paul, and believed to have been designed by architect Anthony Keck. The Paul family lived there until 1860.
The Duchy of Cornwall acquired the house in 1980 and since then H.R.H The Prince of Wales has devoted much energy to transforming the gardens around the house. With the help and advice of notable individuals and the dedicated assistance of the garden staff, what was once a somewhat bleak landscape is now one of the most creatively inspired gardens of today. A series of interlinked areas, each with their own character and purpose, weave magically around the garden, with the house always visible in the distance.
The Highgrove Meadow:  On the advice of Miriam Rothschild, one of the country's leading advocates of biodiversity, The Prince re-created a lost habitat by re-establishing a wild flower meadow.  The meadow now boasts over 30 different varieties of native plants including ox-eye daisies, yellow rattle, common spotted orchid, meadow crane's bill and ragged robin, creating a rich tapestry of colour and diversity.
The gardens are also home to part of the national collection of Beech trees and large leaved Hostas which His Royal Highness maintains on behalf of Plant Heritage/NCCPG, of which The Prince is Patron. This organization conserves the diversity of our plant heritage through its national collections.
A keen gardener, the Prince of Wales has devoted much time to planning and designing the gardens. He has created a wild garden, a formal garden and a walled kitchen garden.