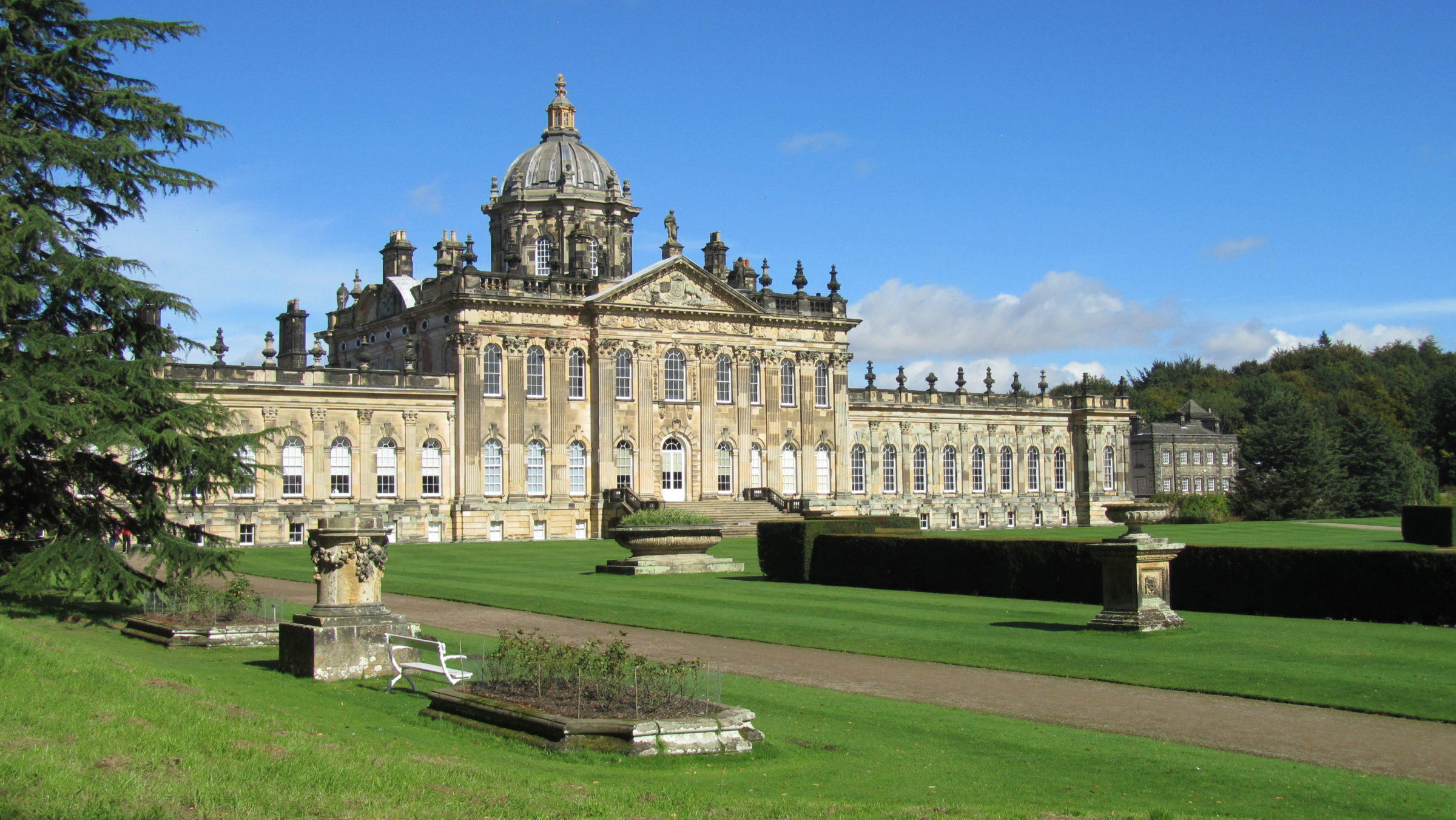 Even as you approach Castle Howard you can tell that you are nearing a place of substance. Built by Charles Howard, 3rd Earl of Carlisle, this was the first building of any kind designed by Sir John Vanbrugh. Nicholas Hawksmoor also played an important part in the realisation of the design. Building started in 1700. Three hundred acres of formal and woodland gardens were laid out around this classical building from the 18th century to the present day.
The 18th Century garden did not demand flowers, but consisted of temples, statues, lawns and trees. There is, however, a flower border to the east of the house – the Collonade Border. The South Lake, the terraces, the statues and the waterfalls down to the New River below the Temple are as laid out by Vanburgh. Down by the pond below the South Lake in Temple Hole is a shrub and wild garden. The Temple of the Four Winds at the end of the terrace was designed by Vanbrugh in 1724-6. The Mausoleum lies beyond the bridge over the New River, which was probably designed by Garret in the 1740s.
Ray Wood, a 30 acre woodland garden was clear felled during the early 1940s and replanted with mixed hardwoods in 1946. In 1975 the late Lord Howard of Henderskelfe decided that this area should become an amenity wood, and that the original walkways implemented by the 3rd Earl should be put back. The rhododendron collections of Forrest, Rock, Kingdon-Ward, Ludlow and Sheriff are well represented. There are collections from Nepal, Bhutan, Japan, Sichuan, Hubei, Guizhou and Yunnan in China. These, cherry trees and azaleas bring a floral abundance and a wealth of vibrant and subtle colour in May.
Within a walled garden is a rose garden, by W. A. Nesfield, based on an 18th century design and filled with rare old roses. The Pyramid and Sundial Gardens, with their magnificent displays of more modern varieties of roses and a wonderful border of delphiniums in early summer, are also a delight.
The ground slopes from the 300ft contour, dropping toward the north west, giving excellent drainage and shelter from the morning sun. The soil is very acid, with sandy loam near the Temple of the Four Winds, becoming richer and heavier towards the house.