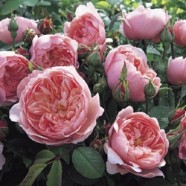 But earthlier happy is the rose distill'd,
Than that which withering on the virgin thorn
Grows, lives, and dies, in single blessedness.
William Shakespeare (1564-1616)
All serious gardeners around the world have heard of David Austin Roses. David Austin belongs to a handful of elite contemporary breeders of this most romantic of garden plants. Here at Albrighton, is his two acre rose garden considered by many to be the most beautiful in the world. It contains over 700 different varieties of roses, divided into five theme gardens, wonderfully punctuated with sculpture and other garden ornaments and contained by neatly clipped evergreen hedges.
In this garden, not only will you meet old favourites but also on show are the latest products of their breeding programme including his famous English Roses. In particular you will see David's latest 'healthy' English Roses with excellent resistance to disease without compromising their beauty and fragrance. The nursery prides itself in the help and advice that is readily available for visitors from their expert staff.
The shop in the Plant Centre offers a wealth of books and products of interest to keen rose growers besides a particularly good stock of container roses and hardy herbaceous plants, trees and shrubs. If you are interested in roses (and who's not?) it will be hard to drag you away!