Top Ten Garden Picks for 2022
Here are our Top Ten Garden Picks for 2022 when we look forward to welcoming you. They are chosen from a profusion of beautiful, thought-provoking and extraordinary gardens that we have the pleasure of sharing with our clients. Experience these, and many more on one of our 2022 garden tours. Find out more….
1. Best for Topiary – Levens Hall, Cumbria
The oldest surviving garden in England, Levens Hall has had just ten head gardeners since it was laid out in 1694. The topiary, at the time was object of admiration and amazement, and continues to be so today. Head Gardener Chris Crowder, one of the UK's leading topiary experts, spends five months a year with his team, clipping and shaping the wonderful designs which are is underplanted with over 30,000 flowers. Experience Levens Hall with Sisley Garden Tours. Read more…
2. World's Largest Flower Show – RHS Hampton Court Garden Festival, London
Hampton Court is the world's largest annual flower show boasting 34 acres of eclectic show gardens and displays. The show offers a breath-taking selection of gardens – designed and created by word-class designers – sculptures, nurseries and trade stands featuring the most unusual and colourful blooms and products, all set against the stunning backdrop of historic Hampton Court Palace. Visit the RHS Hampton Court Garden Festival with Sisley Garden Tours. Read more…
3. Best Example of 'New Perennial Planting' – Scampston Walled Garden, Yorkshire
The walled garden at Scampston Hall had been derelict for nearly fifty years when the owners enlisted the help of leading garden designer, Piet Oudolf – leading figure in the 'new perennial movement'. Although Oudolf's planting ideas are now much imitated, Scampston Walled Garden gives the opportunity to see an outstanding example of the way in which he combines his skills as a designer with his authority and knowledge as a plantsman. Visit Scampston Walled Garden with Sisley Garden Tours. Read more…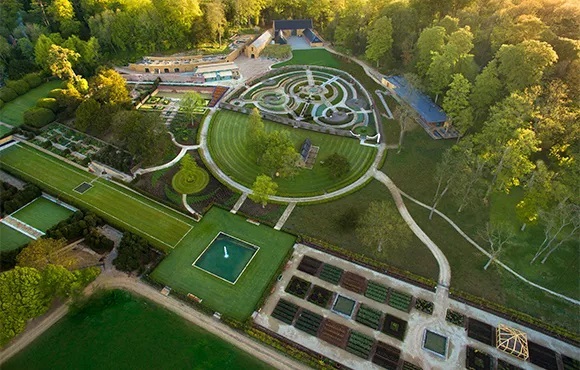 4. Most exciting new garden – The Newt, Somerset
Our new tour – A Garden Journey Through Thomas Hardy's Wessex includes a visit to The Newt, Somerset. This extensive new garden, which has been developed in the grounds of the historic Hadspen House, incorporates a Victorian fragrance garden, greenhouse, cottage garden, water gardens and colour rooms. At the core sits a Parabola walled garden with a collection of more than 460 trained apple trees arranged in a maze. Its sister garden is Babylonstoren in South Africa. Experience The Newt, Somerset with Sisley Garden Tours. Read more….
5. Best For Quiet Contemplation – Parcevall Hall, Yorkshire
In the heart of Yorkshire Dales you'll find a sheltered valley garden that surrounds an ecclesiastical retreat. It was the creation of Sir William Milner in the 1920's – an architect, plantsman and designer. He became a founder member of Harlow Carr, the northern home of the Royal Horticultural Society. Heavily influenced by the Arts & Crafts Movement, Parcevall Hall uses the naturally occurring limestone pavement in its rockery garden, one of the best in Europe. Visit Parcevall Hall with Sisley Garden Tours.  Read more…
6. Most Remote Garden – Tresco Abbey Gardens, Isles of Scilly
The Isles of Scilly, nestling just 35 miles off the coast of Cornwall, are like nowhere else in England. Outstandingly beautiful, uncrowded and unspoilt, they seem like a world apart from everyday life. The island of Tresco is the home of a most extraordinary English Garden, the Tresco Abbey Gardens. This tropical garden is home to a dazzling array of species from 80 countries, ranging from Brazil to New Zealand and Burma to South Africa. Experience Tresco Abbey Gardens and the Isles of Scilly with Sisley Garden Tours.  Read more…. 
7. Best for Royal Connections – The Royal Gardens at Highgrove
Home to HRH the Prince of Wales and the Duchess of Cornwall, the Royal Gardens at Highgrove have been created by the Prince of Wales during his thirty years of ownership and are widely regarded as some of the most inspired and innovative gardens in the UK. With the help and advice of notable garden designers a series of interlinked areas, each with their own character and purpose, weave magically around the garden, with the house always visible in the distance. Explore The Royal Gardens at Highgrove with Sisley Garden Tours. Read more…
8. Best for Literary Connections – Sissinghurst Castle Gardens, Kent
"Profusion, even extravagance and exuberance within the confines of the utmost linear severity" are Vita Sackville-West's own words to describe what has become one of the most internationally recognised gardens of the last century. In 1930, Harold Nicolson (diplomat and author) and his wife (poet, novelist, garden columnist) bravely bought the badly deteriorated Sissinghurst Castle. He was the meticulous designer and she, the plantsman. The result is a most beautiful garden of strict formal design and joyously abundant planting. Experience Sissinghurst without the crowds with Sisley Garden Tours. Read more...
9. England's Favourite American Gardener – Hidcote Manor Garden, Gloucestershire
Major Lawrence Johnston, the 'quiet American' created the most English of English gardens in the Cotswolds from 1907 until his death in 1948. When the garden passed to the National Trust, it was the first property to be taken by the Trust on the strength of the garden alone. Johnson, who left behind an army career to pursue his love of plants and garden design, created a series of 'garden rooms'. Hidcote has become one of England's most influential 20th-century gardens. Explore the garden rooms at Hidcote with Sisley Garden Tours. Read more...
10. Best plant collector's own garden – Hunting Brook
For 20 years, plant collector and enthusiast Jimi Blake, has been rewriting the rules on plant combinations at his fascinating garden at Hunting Brook just south of Dublin.  Jimi's passion for new and exotic plants results in a garden that never stands still.  'Hunting Brook is a garden that is endlessly beguiling and however many times you visit it, you always find something new.' – Monty Don.   Join us on our Irish Gardens tour and meet Jimi and June Blake – the brother and sister partnership who run two extraordinary gardens in County Wicklow.  Find out more…..